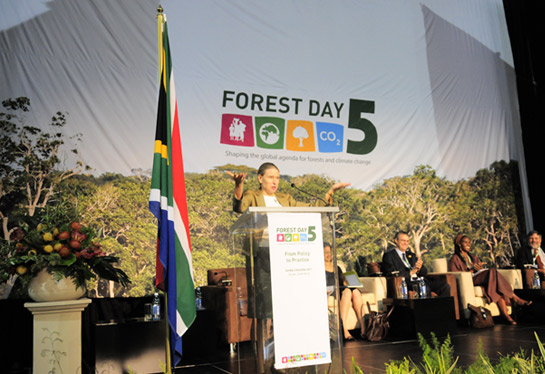 Urgent call for action at Forest Day 5
Experts at Forest Day 5, held on the sidelines of the United Nations climate change talks in Durban in December 2011, warned of a new wave of deforestation sweeping across Africa, decimating wildlife and threatening the resilience of its ecosystems to withstand the effects of climate change – especially in the area of food security.

'Deforestation rates in Africa … are accelerating,' said Helen Gichohi, President of the African Wildlife Foundation. 'The disappearing forests, the overgrazed rangelands, and conversion to crop agriculture of grasslands and wetlands that had served as refuges during drought have all diminished the resilience of ecosystems.'

Her message was echoed by fellow keynote speaker, Bob Scholes of the Council for Scientific and Industrial Research, who said, 'If we can do something to influence deforestation we can have a greater effect on everything than what has happened so far under the Kyoto Protocol … This challenge is worth the effort.'

CIFOR convened Forest Day 5 on behalf of the Collaborative Partnership on Forests. More than 1,100 people from 82 countries attended. This included 214 official climate-change negotiators. The event was a magnet for media and some 210 articles were tracked stemming from the conference.
Some 90% of participants who later responded to an independent survey said they thought the event had been 'successful' or 'very successful'. South Africa's Minister of Agriculture, Forestry and Fisheries, Tina Joemat-Pettersson, said, 'Forest Day 5, without doubt, highlighted the urgency of the survival of the world's forests, biodiversity and the millions of people whose livelihoods depend on them.'