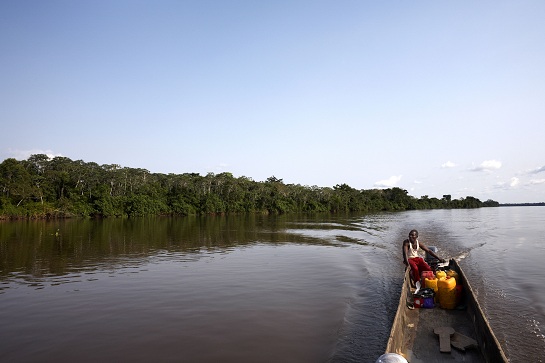 Building knowledge about climate change adaptation in Congo Basin
Most rural communities in the Congo Basin depend heavily on forests for food, water, fuelwood and medicinal plants. However, scientists have warned that Sub-Saharan Africa may be among the regions hit hardest by climate change – threatening this source of livelihoods.
"These 40 master's students trained in adaptation and climate change research are the future of the Congo Basin. They are tomorrow's decision makers and they will have the capacity to understand and implement the best adaptation strategies for the region."


Denis Sonwa
CIFOR Scientist
A recent CIFOR project studied the relationship between forest resources and food security, water, energy and health in Cameroon, Central African Republic and the Democratic Republic of Congo. The objective was to contribute to national adaptation strategies that ensure the continued sustainable use of forest resources.

The project – funded by the UK Department for International Development and Canada's International Development Research Centre – trained 40 master's students in adaptation and climate change research and involved them in studying the vulnerability of people to any impacts global warming will have on forest use.

While climate change mitigation receives occasional media coverage in the Congo Basin, there is less awareness of adaptation. For this reason, the project included journalists in seminars for scientists and decision makers, and mounted field trips for reporters in the three project countries. Scientists mentored the journalists for three months and, during the same period, were encouraged to pass on their new adaptation knowledge to up and coming media students.

A series of public meetings was held to share project findings with stakeholders and to discuss their perceptions – and misperceptions – about climate change. And six pilot adaptation sites (two per country) brought together farmers and researchers to study the current vulnerability of communities to climate change and to consider together the best adaptation strategies for their needs.