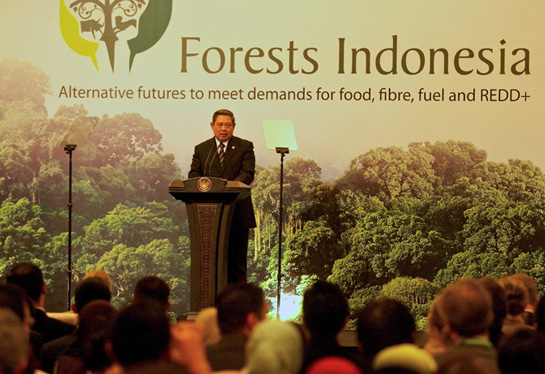 Shining a spotlight on Indonesia's forests
In September, CIFOR convened the Forests Indonesia conference in association with leading business groups, NGOs, donors and government ministries, in particular Indonesia's Ministry of Forestry. The event saw the World Bank, the Climate and Land Use Alliance, and the governments of Norway, the UK, and Australia join together in sponsoring the conference and participating in its planning and execution. The conference provided a platform for 935 leaders, experts, policy makers, heads of business, civil society advocates and international partners to discuss the future of Indonesia's forests. More than 80 journalists attended.
"President Susilo Bambang Yudhoyono presented the keynote address, vowing to dedicate the last 3 years of his administration to the conservation and sustainable use of Indonesia's forests."
President Susilo Bambang Yudhoyono presented the keynote address, vowing to dedicate the last 3 years of his administration to the conservation and sustainable use of Indonesia's forests and calling on business to unite in the effort. More than 37 speakers, panellists and moderators debated and addressed the issues. Erik Solheim, Norway's Minister for the Environment and International Development, reassured leaders in the Indonesian paper, pulp and palm-oil industries that the conservation of forests would lead to greater business opportunities. Jim Paice, UK Minister of State at the Department for Environment, Food and Rural Affairs, reiterated the UK's support for Indonesia in the fight against climate change.

President Yudhoyono was so pleased with the event and opening remarks by Director General Frances Seymour that he asked his staff to produce a commemorative booklet containing the two speeches in English and Indonesian, which CIFOR, at the President's request, sent to all conference participants.

The Norwegian Ambassador to Indonesia told CIFOR that the conference had 'brought new life to the [Letter of Intent between Norway and Indonesia] and put forests back on the political agenda.'